Games Console Add-Ons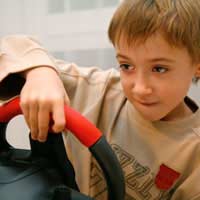 Games consoles are very popular nowadays and they do so much more than just play video games. Modern units are capable of playing DVD movies and connecting to the Internet so that you can play online or even surf the web. These boxes are more like home entertainment centres than simple video game players.
Once you've decided which of the consoles suits your need best, you can start to increase your collection of games and gadgets to improve your experience and enjoyment.
Hands On
The most popular add-ons for games consoles revolve around the control aspect of the unit. Usually a console is supplied with the standard controller. This allows you to play games and manage all the other features, but generally they tend to be quite basic and lack any extras. This is why they're often the first item to be upgraded.
If you like racing games then it's possible to get hold of a controller that looks, and works, like a proper steering wheel. This way you actually turn the wheel to move left or right as opposed to pressing the arrow keys on the standard controller. These vary in realism from units that clip on to a table to whole driving seats with mock seatbelts and a steering column to mimic more closely the experience of driving.
If your console has motion-sensing controls, as found on the Nintendo Wii, you can also add controllers that look and feel like golf clubs or tennis racquets to improve the realism when playing these games. You can also buy gloves and a variety of different shaped controllers to improve the way you interact with your games.
Memories
Modern consoles play games that can be very lengthy, and so you need to save your progress. This is done through memory cards, which you can buy in varying sizes, to store all your levels and achievements.
Even better you can now get hard drives that plug into your games consoles to store things like pictures and music, so when you're tired of slaying dragons you can chill out by listening to music and looking at pictures from your last holiday.
Video and Audio
Often overlooked when playing games is the way they look and sound. One of the best things you can do to improve game play is to buy a high quality video cable to improve the signal going to your TV.
Probably the best way to improve games though is to pump up the volume. Adding a set of speakers to your console will really improve the audio quality, as speakers in televisions are often not the biggest or the best.
Having Fun
Whatever you want to add to your games console you need to make sure that it's compatible first. Sadly each manufacturer keeps its add-ons solely for the machine they make so they're not inter-changeable, so before you buy make sure it's for your brand.
Follow these simple rules and you'll always get the maximum fun from your games console. Because they do so much more nowadays you may as well make the most of the technology and make your games player a much more integral part of your home entertainment system.
You might also like...