How I Met My Husband Online: Case Study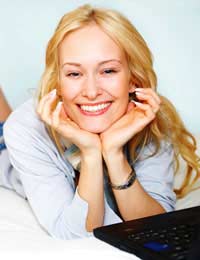 Working mum Stephanie Guy decided to join a dating website because the time she spent working and raising her young son made it difficult to have a social life. She was amazed when, six months later, she had fallen in love. Mrs Guy is now married and has a baby daughter.
"It can be very difficult to find time for a social life when you work full time and are bringing up a child on your own," said Mrs Guy, a 34-year-old nurse from Hull. "I hadn't been in a serious relationship since splitting up with my son's dad and decided to do something about it."
Having looked at a variety of dating websites, Mrs Guy decided to join one of the most popular ones. "I found it really tough to write my personal profile – I mean what do you say? After a lot of rewrites I eventually finished it, although I wouldn't say I was happy with it."
Get Noticed
To get noticed on a dating website a photograph is a must. "I don't think of myself as particularly photogenic, so having my photo taken was only marginally easier than writing the personal profile," said Mrs Guy. "My five-year-old son took the photograph and was really pleased with it, so I didn't really have much option but to use it after that!"
"I was absolutely astounded by the response I got. My main worry was that no-one would contact me and I would have to give up internet dating as a bad idea. In fact, the opposite was true and loads of men sent me messages and they all said nice things – about both the photograph and my profile. I've got to say it gave me a real lift."
Mrs Guy had online chats with a few of her admirers and even went on a couple of dates. On her third date she met Mark, a man she had been chatting to online for weeks. "He made me laugh, so I agreed to meet him and we got on really well," she said.
Falling In Love
"We started to see a lot of each other and realised we had a lot in common. Mark has a son from a previous relationship too and he went through a painful separation very similar to my own. Within a couple of months we had fallen in love and the next year we were married. We've been blissfully happy ever since."
Years on, Mrs Guy still finds it all a little hard to believe. "Never in a million years did I think I would meet my husband on an internet dating site," she said. "The thing is, when we talk about it to friends it's amazing how common it is. So many of our friends know at least one other couple who met the same way."
"I now have a husband and baby daughter thanks to internet dating, so I owe it a lot. I'm just delighted that I found the courage to take that first step and join a site. I would advise anyone who is in a similar position to the one I was in to do the same."
You might also like...