Accessories and Add-Ons For Camcorders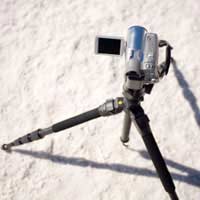 Making movies is simple, all you have to do is pick up a digital camcorder and some tape and you could be the next big Hollywood director. If you've only got the basics though your life will be made more difficult.
You can make your video much more attractive and professional looking by expanding the equipment you get supplied with the camcorder. Following these simple instructions you'll be making better and longer videos in no time at all.
Tape
Digital videotape isn't the cheapest stuff in the world, but keeping a decent supply will mean you'll not miss a second. Each tape is 60 minutes long, though can be doubled in length through the use of long play modes. This does reduce the quality though so it's best to shoot at standard speeds.
Power
First up is the most obvious after having plenty of tape. Make sure you've got the battery power to see you through. The battery you get supplied with most camcorders is good for a couple of hours so invest in extra power and that way you'll never run out half way through the shoot.
Lights
Modern camcorders are very good at capturing video even at low light but to ensure the best possible lighting get an extra light. You'll get better quality images and more evenly lit scenes so your video will take on that professional look and feel.
Sounds
After the moving images the audio is next in line in terms of importance. The better the audio, the more compelling your movies will be. Invest in a better quality microphone that isn't built-in to the camcorder. This will remove those annoying squeaks and motor noises from the unit itself and will improve the overall audio that you get.
It's easy to overlook the importance of audio but getting good quality sound will really maximise the quality of your recordings.
Steady Away
Once you've invested in add-ons to improve your image and sound quality, the next step is something to improve your video making. A tripod will keep things steady and remove the 'shaky hands' from your video. Keeping things on a level playing field will make your movies look much more professionally produced.
Bags
Keeping all this equipment safe is of paramount importance, so invest in a well-padded bag to protect your investment. There are loads on the market that will accommodate any number of permutations. Make sure you test it out with your equipment and that it's comfortable to carry around.
There's loads of stuff you can add to your camcorder to make your experience a happier one. We've covered the main ones here but there's plenty more to let you experiment once you've got the basics.
Remember there's plenty of variety and add-ons range wildly in price. If you're not sure what's best for you try to go in to a store and experiment with the equipment before you buy.
Also don't assume that you have to use named brand equipment with your camcorder, as there are plenty of independent manufacturers who make perfectly acceptable alternatives.
You might also like...