Choosing A Camcorder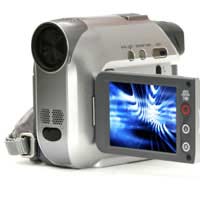 Taking a stills camera on the holiday of a lifetime or to a family event such as wedding or christening is all well and good but if want to preserve the event exactly as it happens there's nothing better than a camcorder. A digital video camera can capture so much more ambience and atmosphere than the still image. The sights and sounds all come together to provide the perfect memory of whatever you point the camera at. You never know you might catch something funny and be able to sell your video to You've Been Framed.
Size and Cost
When you're choosing a digital camcorder you need to bare a few things in mind. If you're planning on taking a whole host of digital equipment with you then size will be an important factor. If you're going on a long trip then spare tape and batteries will need to be taken into account.
The first thing to do is decide how much money you want to spend. Camcorders are available for as little as £200 and go up in price to more than most people make in a year. Obviously the more you spend the more you get but going in to a shop with a good idea of how much you have to spend will narrow you choice.
Technical Features
Camcorders have all manner of options and features though the most important of these fall in to just a few categories. The length of the zoom lens is an important factor but you should really only take notice of the optical zoom rating. The optical zoom is a reference to how much the lens actually moves and the bigger this number is the closer you'll be able to get to the action. A digital zoom simply magnifies the CCD and image quality is much poorer than its optical equivalent.
The other major factor you should take into account is battery life. There's nothing worse than only getting an hours worth of video when you've got twenty tapes ready to fill with footage. The smaller the camcorder the smaller the battery so if you do get a tiny device make sure you check the rated battery life or purchase plenty of spares to take with you.
The position of the microphone is also important. If it's near any of the mechanism it will probably pick up the noise of the tape and internal parts moving when you're recording. Audio is important so you may want to get hold of an external microphone that takes the sound capturing technology away from the camcorder. This will reduce the sounds of the camcorder and improve the ambient sounds that you record.
Remember the Batteries
Whichever camcorder you choose make sure you get plenty of tapes and spare batteries to ensure you're always going to get the video footage. The digital camcorder puts really high-quality video into the hands of anyone who can afford the relatively cheap devices. There are a lot of camcorders to choose from so have a play around with as many as you can before you make your final decision.
You might also like...