Choosing an MP3 Player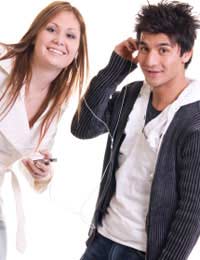 Getting mobile with your music is easy. Simply copy your CD collection to your PC and then to your MP3 player and get going. The sheer number of players can be daunting for the first time buyer but there are really only a few differences between the players and as long as you know what you're looking for there should be no problem getting the right one for you.
First things first you'll need a PC to use your MP3 player, as without a computer it's useless. You can't hook it up to your CD player and copy tunes across like you used to with tape.
MP3 players come in two varieties. There are flash based players and hard disk types. The hard disk types use a disk that's similar to the one inside a PC. The advantage these have is that capacities can be very large and therefore you can store much more music on them. The downside is that they're not as robust and can have short battery lives.
The flash based players use storage similar to memory cards for digital cameras. Though not many players let you remove the card. The flash based players don't have any moving parts so their battery life is much improved over the hard disk types and they're much more robust. Capacities are much smaller though and prices rise exponentially as storage space goes up.
Large
When it comes to choosing a player it's down to personal choice and needs. If you have a large music collection and want to take it with you everywhere you go then a hard disk player is probably the best option for you. You'll be able to get 20000 songs on some of these players, not to mention that the more expensive ones also play video files as well.
Little
If you don't have that much music then a smaller player will probably suit your needs more closely. The flash based players tend to come in capacities up to 8GB and at that size you can still carry 2000 songs with you on your travels. If you're after something light with a long battery life then this is probably the best option for you.
Pick and Mix
When it comes to choosing a player the most important things revolve around how much music you have and how much you want to take on the road with your. A larger hard disk based player will take more music but wont have the battery power to see you very far whilst the flash player will last you longer but with less music.
Otherwise the important factors include what the device looks like and how much you like the design and colour scheme. At the moment the iPod from Apple is the most popular player. It comes in three designs and other manufacturers have similar options so it really does come down to an aesthetic choice.
Make sure you know what you want to do with your MP3 player and your choice will become clearer.
You might also like...