The Dangers of Illegal Music Downloads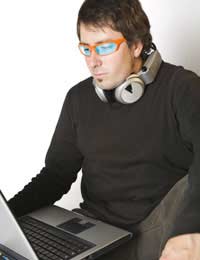 You may think the only danger you'll face when downloading music illegally is jail time or a huge fine due to copyright laws should you be caught, but there are other things you should be aware of.
The Dangers of Illegal Downloads
Remember if it sounds too good to be true, it probably is. There are a lot of sites online spouting promises of free music files from some huge artists, don't be fooled, the golden rule stands, if it sounds too good to be true, it probably has a catch.
Remember once you download a file onto your computer, there's no telling what it might be up to, you need to be careful, not only of the law, but also that you are cautious of any of these 'great deals' on free music. Illegal downloading and file sharing can leave you open to security breaches, viruses and other net-borne nasties - there's also the massive fines and jail time to consider.
Illegal music downloading actually harms you as a consumer. Many people may try and justify their flagrant illegal internet use as the little guy fighting the huge corporate bodies, but in actual fact it is not only the countless artists, musicians, writers, engineers and others in the music business that suffer harm, but also you the consumer.
Using Torrent and Peer to Peer Sites
Using torrent programs usually means you're downloading music illegally and these programs tend to be the ones that contain vicious spyware, malware or other irritating tracking devices that bury themselves in your computers registry unknown to you.
Parents should speak to their kids about Peer to Peer (P2P) filesharing to ensure they know the dangers of illegal music sharing, as many may be under the false impression there is no illegality involved. Explain that downloading music and other files illegally may not only result in questionable content being left on your home computer, but also heavy fines and / or jail time.
The newest legislation is attempting to have users who download music illegally banned from the Internet. Their ISP (Internet Service Provider) will be required to give them a 'three strikes and you're out' policy and if they don't adhere to this, they are banned from Internet usage. Downloading songs illegally can indeed prove to be a very costly experience.
Getting Free Music from New Artists
Sometimes free music downloads are legal - generally if a band is starting out and not signed to a label. They may opt to release their music online, perhaps for free, or perhaps for a donation. Even some large acts are beginning to utilise this method, with Radiohead releasing their last album online for a donation amount set by the downloader. If a band like Radiohead are offering a digital download of their material, ensure you are downloading it from the correct source, which in their case was their official website.
Always check you are downloading from an official source if you think you're getting music for free. Some websites allow bands to get their music to people by streaming it online. There are often no obvious ways of downloading, but many people know certain programs that will allow you to copy streaming music. If in doubt, don't download, as before you know it you can have a nasty virus on your computer allowing people 'back door' entry into your data.
How to Download Music Legally
Always use a reputable online music dealer. Apple's iTunes is one of the most recognisable digital download stores in the world and has a huge library of music (and other digital media) for you to download at your fingertips.
The great thing about music downloads (when done legally) is they take up no physical room and they're generally slightly cheaper than hard copy CDs and singles. It also means you don't have to leave your house to purchase that song that popped into your head and won't leave you alone.
Illegally Downloading is a Crime
Next time you think about illegally downloading music on the internet, give a few things a thought first. If you had worked hard on something, would you want it disseminated for no payment via the internet? Illegally downloading music may not have any physicality to it, such as shoplifting, but it equates to the same thing -stealing and stealing is a crime in the eyes of the law.
Task forces are being set up in various countries to deal with illegal music downloading, don't let yourself be a victim, know you're on the right side of the law and use reputable digital downloading services.
You might also like...