How to Download Music to an MP3 Player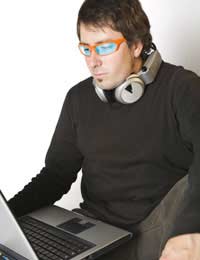 MP3 players are all the rage at the minute. It seems everyone wants to put every CD track they own onto a portable music player. Luckily companies are lining up to offer a fantastic range of players that will suit almost all tastes. If you're entirely new to this kind of technology don't worry its simple enough to get started.
The most common and arguably easiest, method of getting music onto an MP3 player is to copy your CDs directly to it. If you remember tapes it's not all that different but luckily it's much better quality and on the whole easier to do.
Firstly, most MP3 players will come with a CD that contains some software that allows your PC to hook up to the MP3 player. Install this and then connect your MP3 player to the computer. Once you've confirmed that the computer can see the player you're ready to start putting music on it.
How to rip your CDs
Open up your first CD and put it into your PC. The software associated with your MP3 player should sense that a music CD has been inserted and ask you if you want to copy it to the player. If it doesn't, don't panic, simply go to the file menu and select import to start the process manually. The faster your computer the more quickly the files will be ripped. It's still faster than real time copying but the more horse power you have the less time you'll spend with each CD.
The music on the CD will now be copied from the disc to your computer's hard disk and them from there to the MP3 player. You should take into account the quality settings, as MP3 is actually lower quality audio than that of a CD. So if you want to improve the sound make sure you do so in the preferences of your software. The better the quality the larger the file though so you might not be able to get all the music you want on to your MP3 player if you choose a high-quality file setting. As a general rule of thumb you can get 250 decent quality songs on a 1GB MP3 player.
Some MP3 players don't require software at all you simply copy the music file to it as if you were putting a file into a folder. In this instance you'll simply drag the file to the player, which should show up as a drive in My Computer. Although this approach is hassle free it doesn't allow you much as control or editing options.
Music Stores
Other than your CDs you can put music onto an MP3 player through one of the many online music stores available. The most popular at the moment is the iTunes music store from Apple. You have to have one of the company's iPods to buy music from the store at the moment but this is likely to change in the near future as restrictions are lifted. If you do have an iPod simply launch the iTunes software on your PC and click on the iTunes Store icon in the left hand panel of the application. If you haven't already registered your details, do so and begin to buy tracks. You can listen to a small preview of each track before you buy it.
If you don't have an iPod you can use one of the many other services available to you. Generally they'll automatically copy the music to your computer for you to put on your MP3 player with your software. The most important thing to do is make sure that you keep copies on your computer hard drive as well as your MP3 player as a backup.
The popularity of digital music players has meant there are a large number of manufacturers in the market. This, in turn, has increased the variety and quality of players. By far and away the most popular type of MP3 player is the Apple iPod but there are plenty to choose from that are just as easy to use and reliable. Downloading music to your player is becoming a mostly automatic process so don't worry if you're not a technically minded person as it really is very simple.
You might also like...