How do I Protect my PC From Bugs and Viruses?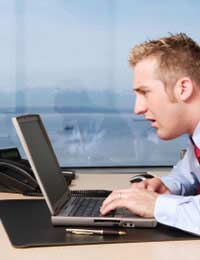 Computers can be a scary thing to get to grips with and this isn't helped with all the hype surrounding security and viruses. There's little to worry about though as long as you take adequate precautions and make sure that you're very careful when using your computer online.
The majority of threats are benign and any unwanted emails you get that claim to be able to do harm to your PC are largely false. There are however real bugs and viruses that can infect your PC and cause harm to your set-up.
Self-protection
You can also protect yourself by being a bit more inquisitive about any email you receive. Many bugs and virus are sent by email and work by copying your email address book and sending themselves on to those addresses. This way they perpetuate themselves without the original sender needing to know millions of email addresses.
You can help stem the flow of this method by making sure that you don't open any attachments sent in emails unless you're sure it's meant for you. If you get an email with an attachment from someone you don't know then it's best to treat it with extreme caution.
Before you start to panic and unhook your computer from the Internet there are a few simple steps you can take to protect yourself. One is a fairly simple one; keep your PC up-to-date. Every time an operating system is released they not only add new features but also close holes and bugs in the system.
By keeping your computer running the latest software you'll be on the road to making life more difficult for hackers and keeping viruses at bay.
Security Guard
Sadly though even the most cutting-edge software can be prone to attack, so it's best to invest in some second line defences. There are many security packages out there that can stop viruses dead in their tracks.
The companies that make this kind of software track all the virus and bug trends to stay one step ahead of the people spreading these nuisance applications. You'll usually have to subscribe to a system that gives you constant protection and some companies charge a small fee for this. This is much less than the cost of recovering all your data should a virus delete it all though so it's a sound investment.
The bottom line with PC security is common sense. Invest in some software to protect yourself and make sure that it and your PC's operating system are as up-to-date as possible.Make sure you don't download something without checking its provenance first and if something looks like it might be a virus treat it with extreme caution.
If you take these precautions you're unlikely to be troubled by virus and bugs. There's a lot to be lost by leaving yourself open but with the right approach there's little even the most determined virus or bug can do to make it past modern defences.
You might also like...