How can I Expand my PC?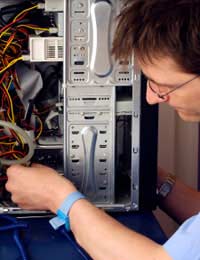 If your PC is getting a bit long in the tooth or you just have to have the latest and best stuff inside your computer then you can upgrade it to match the latest new machines. There's plenty of stuff that you can change and tinker with to make your PC faster more compatible or just plain better. There are several components that you can change and they'll offer different performance boosts with each upgrade.
Monitor
Starting with the most obvious component that you can upgrade it's surprising that it's often overlooked. Your monitor is your window onto your PC and the larger and better the resolution you get will improve your computers usability no end. So if you're looking to spend some money on upgrading your machine start with the screen.
Look Inside
Next up we start to look inside the PC for the best upgrade options. The more RAM you have the faster your PC will run. Applications use the RAM memory to run and the operating system uses it to make sure the applications work so the more you have the better. Make sure you purchase the right RAM as systems can differ. There are plenty of RAM manufacturers who can tell you exactly what you need just from the name and model number of your PC.
Storage and Graphics
Your storage space is also something that can easily be upgraded. Hard disks get larger all the time and you can store more music, images and documents on a larger hard drive. Not only that your PC will run faster when there's more disk space available.
Your graphics card is the technology that powers the display and the faster and more capable this is the better your images will be. Also, the latest games will all be much more attractive and gameplay smoother if you have a better graphics card inside your PC. You will need to check that the graphics card you buy is compatible with your PC as the technology changes very rapidly.
Replace the Processor
Of course, on of the best ways of improving speeds and performance of a PC is to replace the processor. This is a fairly major process and should only be attempted if you're sure of what you're doing with a PC and its guts. You may need some specialist equipment, so make sure you've got that and read the instructions before you start.
Other than the main components there are other things you can add to most PCs. Many have space PCI slots that you can add expansion cards to. Adding USB ports or modems or Network cards are all possible. It's simply a case of popping open the case and slotting the card into the space.
Upgrading your PC is one of the simplest ways of making it run faster and be more capable. Modern systems are very designed to be modular so you can't accidentally plug the wrong thing into the wrong slot and break the computer. As long as you read the instructions and make sure you buy upgrades that are compatible with your machine then you should have few problems upgrading your PC.
You might also like...