Text Messaging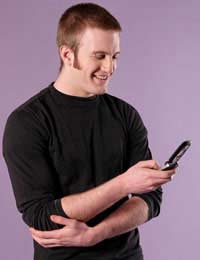 The mobile phone is an object that raises so many opinions. Some people love them and can't be separated from their tiny technological marvel. Others find nothing more annoying than being constantly available. There are ring tones that drive you mad and some are so small you forget to take them with you. There's no denying though that whatever your opinion of the Mobile they've become part of our everyday lives.
One of the most popular side benefits of the mobile phone has been the advent of text messaging. This is where rather than use your voice to communicate you use a short message that is displayed on the screen of the phone. Messages can be short or long a kind of a message pad in electronic form.
Companies are also getting in on the act of text messaging with many stores offering services such as stock updates so that you never miss out on the latest bargain. . You can also send text messages to BT landlines in the UK and a computer will translate the text and read it out to the recipient. The voice is a bit disjointed and certainly doesn't sound human but nonetheless it gets the message across. If you have a home PC you can even send messages from the desktop with the right software though this seems to defeat the object of having a mobile phone.
How to Text
You'll notice that nearly all phones have letters next to the numbers. All you have to do to create a text message is to press the corresponding number to get the letter. For instance to get the letter B you'd press the number where the letter appears (usually 2) key twice.
More modern phones have something called predictive text messaging. This technology guesses what you are trying to type and fills in the rest of the word for you. You can either accept the phone's guess or continue typing the word if the phone gets it wrong.
Text Language
The desire to create even faster communications has lead to a text messaging language all of its own. Using abbreviations and sometime numbers to replace whole words. Some are immediately obvious; l8r for Later for example though others are a little more complex. OTTOMH for example might not make immediate sense but it means off the top of my head. Don't worry though you don't need to learn this seemingly foreign language in order to get started with text messaging.
Compatibility
The SMS standard is well established now and all mobile phones are compatible with text messaging. It's a worldwide standard as well so text messages in foreign countries isn't a problem, although costs are higher when you're outside your home network. The number of options you have at your disposal is increasing rapidly and you can add pictures and graphics to your messages as well as video. You can even send ringtones and full music files if you want. At the end of the day though the popularity of text messaging lays in its simplicity.
You might also like...