Enjoying Video and Music on your Mobile Phone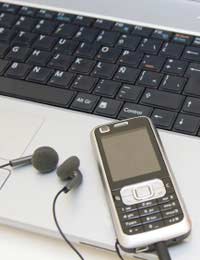 Video and music on your mobile phone? What a world we live in.
Yes, music and video on mobile phones is now pretty commonplace. But how do you get it on yours? It may sound complicated but it doesn't necessarily need to be. Although getting media to play on your phone differs slightly from manufacturer to manufacturer, the basics are reasonably straightforward.
First of all you need to have a fairly modern phone. Handsets with the ability to play music and video have been around for some time, but now these features are being focused on more heavily by most major phone brands.
If you're buying a new phone, make sure you ask about a handset that suits your personal needs the best, and always see if you can test out the music and video playing functions before purchasing. Once you have your handset, here are the basic things you need to know in order to get your new portable media centre up and running.
File Formats and Converting
It's important to make sure that the files you transfer are in a format that is recognised by your phone. This is less of an issue with music files because most are now either in AAC or mp3 format which are supported by any media phone worth its salt.
However, when it comes to video, most phones will only support one format. The two file formats you are most likely to encounter are AVI and MPEG4 files, and it's important to know which of these your phone recognises, and then transfer accordingly.
If you already have video files in other file formats or you have a PC full of MPEG4s and a phone that only plays AVIs, then you can easily convert your files with a small and easy to use program.
Such programs are sometimes included with your phone but if not they are available at a small price online, and with a little extra searching they can even be found for free. They are fairly easy to use, and usually come with helpful tutorials to get you started.
Transferring Data
It's always a good idea to consult your phone manual before transferring files. Some models require you to install software before you begin, but most phones are fairly straightforward. Usually, all you have to do is connect your phone to your PC and then it should appear as a new storage medium on your computer, just as your hard drive or CD drive appears (as a letter followed by a colon). Now all you have to do is drag and drop your music and video files into the new drive and they will transfer to your phone's memory.
There are a few other ways of getting music and video onto your phone. If your phone has a removable memory card, you can plug it directly into any PC or laptop that has a memory disc reader. And if you're really lazy, most phones and computers now come with Bluetooth technology, which means that you can transfer your files between the two wirelessly.
Playing Your Music and Video
Once your files are in the correct format and stored on your phone, playing them is easy. Either locate the files in the memory of your phone and then select play, or open the media player on your phone first, and then locate the files you wish to open. Now it's just a matter or making sure you have a good pair of earphones so you can listen to your favourite tunes and watch your favourite movies on the move without disturbing anyone.
You might also like...