The Benefits of Bluetooth Explained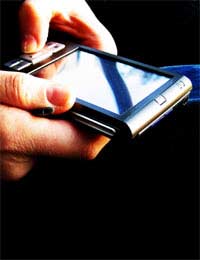 It may sound like a dental disorder, but Bluetooth is in fact a nifty technology that allows electronic devices to talk to one another quickly and easily without the need for cables. It uses radio waves, so works around corners and through walls, and three or more devices from different manufacturers can connect at once as long as within a range of about 10 metres.
It's very simple to use, because Bluetooth-enabled devices will automatically connect to one other as long as they are within range and switched on. This allows video and audio with stereo sound to be shared between devices over a wireless connection with no complicated set-up and no additional cost. It's safe too, as the user can approve or reject connections from other people's devices in order to keep their information secure.
The purpose of Bluetooth is to make life easier and it achieves this in a variety of ways. Very few people will turn their back on the technology once they have discovered its advantages.
Stay Synchronised
For instance, when a Bluetooth user upgrades his mobile phone, there's no need for him to re-enter all his contact information. Instead, he can just use Bluetooth to copy the address book from one phone to the other. Likewise, electronic diaries can be kept bang up to date, as Bluetooth allows schedules and to-do lists on mobile phones and laptops to be synchronised easily and wirelessly. It makes it easier to keep important information safe too, as the contents of a mobile phone can be backed up to a computer effortlessly.
Bluetooth is ideal for email on the move, by allowing a laptop to use a mobile phone's GPRS connection and, as Bluetooth is an industry standard, devices from different manufacturers can work together. The technology is power-efficient, so it's well suited to battery-powered devices. Staying in touch while driving is easier with Bluetooth too, because a mobile phone will automatically connect to a hands-free kit every time the user gets in his car, so there is no need for wires or set-up.
Bluetooth Fun
All work and no play would make Bluetooth a dull technology, but there is plenty of fun to be had as well. For example, Bluetooth allows photographs, video clips and music to be shared with friends instantly. Users can play multi-player games or listen to music tracks or radio stations on hands-free, wireless head-sets and the music will stop if there is an incoming call.
Bluetooth - named after the 10th-century king of Norway and Denmark Harald Blatand (which translates as 'Bluetooth') – is secure but, like with all technologies of this type, there is a small risk that determined hackers with specialist equipment could use Bluetooth to gain access to data on a mobile phone.
Those concerned about security, should never connect with a device unless they know who it belongs to and use the non-discoverable mode to make breaching their security significantly tougher. Better still, turn the mobile phone's Bluetooth off when it's not in use for complete protection and remember that unless hackers have very expensive equipment, they will need to be within 10 metres of the phone they are hacking into.
You might also like...