Wi-Fi Basics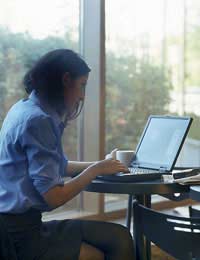 Many people who are at least slightly interested in technology will have heard of the term 'wi-fi'. Many people have an idea that it has something to do with the internet, but most don't know exactly what it is. Let's take a look at some of the basic ideas of wi-fi technology and how it applies to you.
What is Wi-Fi?
Wi-fi is basically a wireless technology that is owned by a consortium of companies known as the Wi-Fi Alliance. These companies work together to produce a variety of products that are based around a standard known as 802.11. This is simply a term for wireless connectivity and generally wi-fi includes VoIP (voice over IP on computers), video gaming, internet access and more. Wi-fi is supported by all types of computer operating systems including Windows and Mac. The term 'wi-fi' actually means wireless fidelity and was created by the wi-fi alliance when the technology was developed.
Uses for Wi-Fi
A wi-fi enabled device is capable of connecting to the internet when it is within range of a wireless network. A wireless network is simply a point that is connected to the internet and emits a wireless signal that you can connect to in order to also get access to the internet. These are often called wireless 'hotspots' and in many areas these can be accessed for free in shopping centres, hotels, cafes and libraries.
Many cities have far reaching wireless networks that are all connected together through a variety of access points. Some wireless access through a wi-fi enabled area requires a password to be given out before access is granted, but generally it is becoming more widely available for a nominal charge or for free. Many businesses and universities rely on wi-fi to have all their employees or all students able to access the internet at the same time.
Wi-Fi in your Home
If you want to have wi-fi in your home, it can be relatively cheap and easy to set up your own wi-fi network. As long as you have an internet service provider and a modem/router with a wi-fi access point you are able to set up a wi-fi network. This network means that your entire home can use the network, which means a variety of people in your home can connect to the internet at the same time in different places in the home.
This means that you can be using your PC in one room whilst another family member uses theirs in another room. Also, if you have devices that have wi-fi capabilities such as a mobile phone, digital camera, iTouch and more.
Most new laptops now have wi-fi built in and thus are able to connect to wireless points as soon as they are out of the box. If you set up a wi-fi network in your home, it's a good idea to put a password on it to protect yourself from 'piggybacking'. Piggybacking is a term that is used when people will connect to your wireless network without your permission. This is easily done if you don't have a password to protect it, so ensure when you set it up you use either a WEP or WPA password. These are simply different ways of encrypting your connection so that other people can't get free access to it.
The Future of Wi-Fi
As we move towards easier access to technology, wi-fi continues to evolve to suit the advancing technology of the time. Variations on the original wi-fi technology adapt the ease and accessibility of wi-fi and more cities are using it as a free service for their citizens. Wi-fi will continue to grow in popularity and eventually most areas will have free wi-fi enabling you to access the internet at any point in time, no matter where you are.
You might also like...