Getting Started With Dating Websites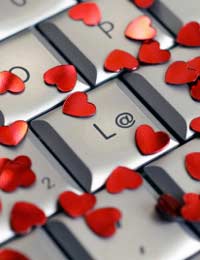 There was a time when internet dating had a bit of a geeky image, but that no longer applies. The biggest dating websites now have millions of members as more and more people go online to sort out their love lives.
The choice of dating websites is simply staggering. All sorts of singles are catered for, whether they are Christian or Jewish, gay or lesbian, vegetarians or animal rights sympathisers. There are specialist sites for Asians, Africans, single parents, big built men and women, wine lovers, over 50s and even, believe it or not, millionaires. Of course, there are also countless dating websites that cater for all types of people, regardless of their beliefs, size, background and sexual orientation.
Many dating websites make bold claims too. There is one that guarantees you will find love within six months and another that loses 160 members every day because these people have found their perfect partner on the site. Some have millions of members, while others have a more select clientele, and although many now offer free online dating, some will charge a subscription fee.
Take The Plunge
Once you take the plunge and decide to join the massive online dating community, the first task is to choose which of these websites is right for you. Don't rush into a decision. Take some time to look at different sites and find out what each one has to offer.
Some dating websites take a more scientific approach to finding your perfect match, but most work along similar lines. New members will be asked to answer questions about themselves, such as sex, height, weight, build, eye colour, hair colour, occupation, income, religion, beliefs and interests. These facts will be used to provide possible matches and so should be answered as honestly as possible. After all, if you describe yourself as tall and slim, your date will get quite a shock if you turn out to be short and dumpy.
New members will then have to provide a personal profile. This is a chance to sell yourself and tell potential dates what you are really like. It is also a chance to let others know what you expect from a relationship and what kind of person you would like to meet.
Get Noticed
The profile is likely to attract much more interest if at least one photograph is included. Although this is not compulsory on a lot of dating websites, there is a lot of competition for attention out there and many members will simply ignore profiles that do not include a photograph.
With the profile complete, a new member is then free to search other people's profiles and hunt down potential dates. The dating site will suggest possible matches and if someone grabs your attention you can send them a message or arrange an online chat. Those less forward can just sit back and wait for others to flood their inbox with messages.
When online chats are no longer enough you can arrange a date, but remember to stay safe. Always arrange to meet a new date in a public place and tell a friend or relative where you are going and when. If you live alone, arrange to call a friend to let them know when you are home – and be prepared to let them know all about it!
You might also like...