How to Protect Yourself From Rogue Sites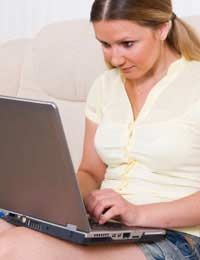 There's a lot of talk about viruses and bugs on the Internet but with the right protection and precautions it's very difficult to fool either a savvy user or good security software, letting an outsider on to your computer.
This has lead to hackers coming up with even more complex and tricky methods of trying to fool users into giving away precious details such as bank account details or passwords and login codes.
Phishing
This new hacking method takes you away from the security of your PC and on to the web which is much harder to police and much easier for a thief to manage. These spoof sites are basically carbon copies of real websites and at a glance look like the real thing.
To get you to go to these web pages the rogue will send you an email claiming that there is some kind of problem and that you need to rectify this by clicking on a link provided in the email. This link then takes you to the rogue site and records every keystroke you make. The hacker then uses this data to log in to your real account and steal your money or use your services for free.
Spot a rogue site
Though rogue sites have become much more complex, there are a few methods you can use to spot them. The address bar is the simplest way to check. Is it the actual address of the business or a line of gibberish? Only the real site can use the proper address. Also many of these sites miss-spell the company name and use bad grammar so keep an eye out for that.
The Good News
Luckily there's no way a hacker can be sure you use online banking or that you have a bank account with a certain institution. Therefore if you receive an email claiming that there's a problem with your Nat West account and you need to log in and change your details, and you don't have an account with them, you can spot the scam immediately.
Protect Yourself
If you do receive an email from a company you do have business with then be sure to read it carefully. If it asks for your password or log in details it's highly likely to be a rogue site.Companies will never ask for such detail in an email. If you do give your details inform the company immediately and ask them to cancel all your accounts.
Rogues
Sadly enough, people fall for the scams each year to make it worthwhile for the rogues to continue. The methods get more and more complex with each new scam, luckily so does the security.
There's no substitute for using your common sense when it comes to protecting yourself though. If you get an email asking for details, disregard it or forward it to the website it corresponds to. No company worth it's salt will ask you for details via email. If it does it's be best to move your business elsewhere.
You might also like...