Starting Your Own Website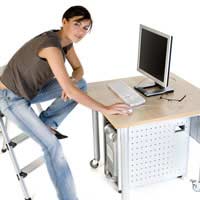 The Internet is such a part of our daily lives nowadays that nearly everything can be achieved through some web site or other. Getting onto the web is simple enough all you have to do is plug a modern PC in hook it up to the phone line and away you go. But what if you want to create your own pages on the net? How do you launch a website to sell your business or product? Let people know that you exist or promote a hobby or pastime that you are passionate about. There are a number of ways to get yourself online and here we'll discuss the best ways of going about it.
Free Space
One of the easiest ways to get your website up and running is to use the space that our internet service provider gives to you free of charge when you sign-up. The vast majority of companies offer you some web space to do with as you please. To access this space you'll need to check with your ISP on how to upload your web pages to the site. This can be done through a special web page or with an FTP client. This is a separate piece of software that you use to load documents to and from the web with. Check with your ISP to find out how to access this space.
Off the Shelf
Another method popular to those with little or no experience in creating a website is to buy an off the shelf ready-made site. These are commonly available and include various different formats depending upon what you want to achieve. All you have to do is supply the words and pictures and the site is ready to go.
Start from Scratch
If you're a little more adventurous you can start from scratch. To do this you'll need some web design software and a website host. You then have to design and upload all your own stuff. The advantage to this approach is the complete control it gives over the look and feel of your site. The problem of course, is that you have to take the time to lean all the software and then put it all together.
Blogs
Another simple way to get your own website is to start what's called a Blog. These began as a simple online diary of sorts but now they are taking over from regular websites. You can sign up with many blog providers free of charge and all the hosting and design is handled through a simple interface.
Whichever method you choose there are issues and advantages to each but getting online has never been easier. Define what you want to do on your site and this will help you decide which software to use. There are loads of ways you can get a website up and running for free but this doesn't make them the best for your needs so shop around and look at what others are doing to help you decide.
The Internet is a great place to do business, have fun and get your entertainment. Adding to that experience is fun and can be easy so don't be afraid to have a go.
You might also like...