Using the Internet for Shopping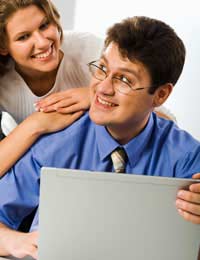 The Internet is a great place for shopping. You can buy literally anything from the Internet and have it delivered to your door. You'll never have to leave the house again. With supermarkets now selling their wares online, you can do all your grocery shopping without having to lug a trolley with a wonky wheel down the aisles. It's not just food though with just about every retailer making their goods available to order through the web we can get what we want 24 hours a day.
The Internet makes it so simple to shop you can see pictures and specifications of nearly everything before you buy it and you can compare prices at the click of a button without having to spend hours traipsing around department stores or out of town retail parks.
Price Comparison
There are several sites you can take advantage of to make your shopping experience that much simpler. Put simply, these sites club together all the online retailers and let you see how much they charge for items. You can search for stuff like TVs and DVD players to see what's available and who's selling it at the cheapest price.
The fun doesn't stop there though as you can do much more advanced stuff, like get multiple insurance quotes from one place. This means you don't have to fill in the forms over and over again. All you have to do is fill out your details once and the comparison site will enter them in all the various sites for you and bring back a price for you. They don't always give you every single possibility but they're a good starting point and can save you loads of money.
Auctions
Another great way of shopping on the net is to use auction sites. These sites consist largely of individuals selling items they no longer want and just like a real auction you put your bid in and if it's the best offer you'll get the item. You can just buy the item if the seller allows it, but the best bargains are to be found in the auctions. You have to be careful and read descriptions very carefully as there are some unscrupulous people on these sites. The best advice to follow is that if an offer seems too good to be true then it probably is.
Safety
The security of online sites has improved markedly over the years but you should still be wary before handing over your credit card details. Make sure the site offers a secure payment option that encrypts your credit card detail in transit and stops hackers form stealing your numbers. Play extremely safe with your details and if you don't like the look of a site, it's best to shop elsewhere or verify the quality of the site by contacting customer services to see what kind of security they offer.
Ultimately the web is a very safe place to shop and it can save you loads of time and hassle. Play it safe and use your common sense and you'll be happily shopping without a hitch.
You might also like...