What are PDF's and How to Use Them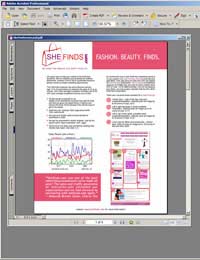 Have you ever tried to send a document to someone and they've not been able to use it? The problem is that each software application saves the documents you create with it in a unique and propriety format. These file formats are designated by the extension code. These are the three letters after the full stop on a document. For example myfile.doc is a Microsoft Word Document.psd is an Adobe Photoshop image file. If you don't have the applications to open these types of document then you can't open or view the documents.
This is a problem that many people have come up against over the years and luckily there's a solution that allows you to send a file to anyone and for them to use some free software to view the document. It's called a PDF. PDF stands for portable document format and was developed by Adobe as a solution to the problem of multiple document formats that couldn't be read without the software that created them.
Opening PDF's
The PDF system allows you to make your document in whatever application you want and then convert it to a PDF file which can be sent to anyone. All the person receiving the document has to do to view the PDF is download the free PDF viewer from the Adobe website. They can then open the file and print it or view it as needed.
If you receive a PDF file it will have the file extension .pdf. All you have to do to open this file is to ensure you have the Adobe PDF reader software from the Adobe website and double click the file. The document will appear in the reader window just as the author of the file intended.
Making a PDF
If you're making a PDF you can download a number of utilities that will allow you to do this easily. In fact some applications will allow you to make a PDF from the file menu. It's just like printing only you create a PDF instead of a paper document. This will allow basic PDF creation but if you wanted a more complex system you'll need to purchase the full PDF suite from Adobe. This software is called Adobe Acrobat and will allow you much more control over a PDF file.
Not only can you create much more complex documents such as forms with sections that people can fill with their own information. You can also restrict documents so that end users need a password to view them or even restrict printing options. You can do all this and still create a document that anyone can open with just the Adobe Reader software.
The PDF system is a great way of distributing documents that need to be readable by a large number of people. The best thing about the system is the free reader software that means you don't have to make any investment to read the documents. If you're making PDFs the process is very simple and you can distribute a file to a great number of people without having to worry if they'll be able to view it.
You might also like...