What to Look for When Buying a Printer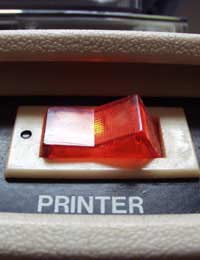 Getting a printer for your computer can be a daunting prospect. There are so many types and they range in price from £30 to £3000 and more. How do you choose the best one for you and avoid wasting money on a machine you simply won't use to its full potential?
For the home user there are two main types of printer with a few specialist ones available, to choose from. The inkjet printer is the most popular type of small format printer. Basically this uses a tank of ink and squirts the ink on to the page to create a print. The other is a laser printer. This uses a laser to put toner onto the page. There are other types of printer such as Dye-Sublimation and solid ink but these are much less popular and generally suited to specific tasks such as photo printing.
Inkjets
Far and away the most popular home device is based on inkjet technology. There are a few things to look for when choosing the right model for you. It's true that you can pick up an inkjet for less than the cost of a good meal but as with all things you get what you pay for. If all you ever do is print out the odd letter or email and from time to time a picture then a basic inkjet is all you'll need. These come with the barest essentials of a single ink tank containing the cyan, magenta, yellow and black that build colour on the page.
Lasers
If you are going to print a lot of pictures or text though it would be worth considering a more expensive model that has separate tanks for each of the colours. That way if you use a lot of black you only replace that tank as opposed to changing the whole thing and throwing away a cartridge that still has plenty of cyan and magenta left in it.
Should your output be heavy and mainly text based, it might be worth considering a laser printer. These can cost more initially than inkjets but long-term running costs are significantly lower than an inkjet. The downside to a laser printer is its graphic performance. You have to spend a great deal to get really good images from a laser and the cheaper models are usually mono only.
Should you want to print a lot of photos it's probably worth considering a specialist photo printer. These have become very popular recently and are getting ever more advanced. Usually, they print on to 6in x 4in paper so they really are only for pictures but the quality is extremely good.
Ports
Once you've decided what kind of printer you need there are other things to take into consideration. Many devices are the all-in-one type nowadays. These incorporate a scanner and sometimes a fax into the device to make it an all-round office workhorse. All inkjet printers will come with a USB or parallel port to connect to your PC but some also have wireless or Ethernet connections.
To make sure you get the right machine for you think about what it is you print most often. If it's all text then go for a laser printer. However if you do graphics and pictures almost as often as the printed word then an inkjet would suit you more. Though there are cheap printers out there it's always worth considering a slightly more expensive model for the better specification.
A printer is one of the most important investments you'll make for your PC so make sure you get the machine that's right for you.
You might also like...